Filter Resource Library by: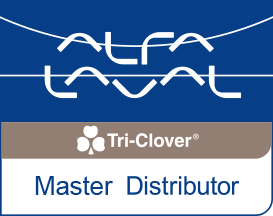 Central States Industrial (CSI) is a master distributor of Alfa Laval sanitary equipment and their Tri-Clover® product range. Alfa Laval is a leading global supplier of products and solutions for heat transfer, separation and fluid handling through their key products: heat exchangers, separators, pumps and valves.
The Alfa Laval name has long been recognized as a supplier of high-quality products. While quality remains a top priority for Alfa Laval, their mission to provide value to customers by optimizing the performance of your processes. With more than 2000 patents, Alfa Laval offers worldwide solutions in areas that are vital to society both today and for the future. Alfa Laval's products are used a wide variety of industries in the manufacturing of food, chemicals, pharmaceuticals, starch, sugar and ethanol.
View Brand Website
Pump Solutions

Piping & Accessories

Valve Systems

Instrumentation

Mixing & Ingredient Addition

Cleaning Systems

Heat Exchangers