CSI Celebrates 40 Years of Growth
For Central States Industrial (CSI) employees, 40 years of business represents more than just a job or a paycheck. Founders, Jim and Shirley Cook, set a model that lived from the earliest days; being a CSI employee means a lifetime of growth, overcoming challenges, and creating connections. To be part of CSI is to be family.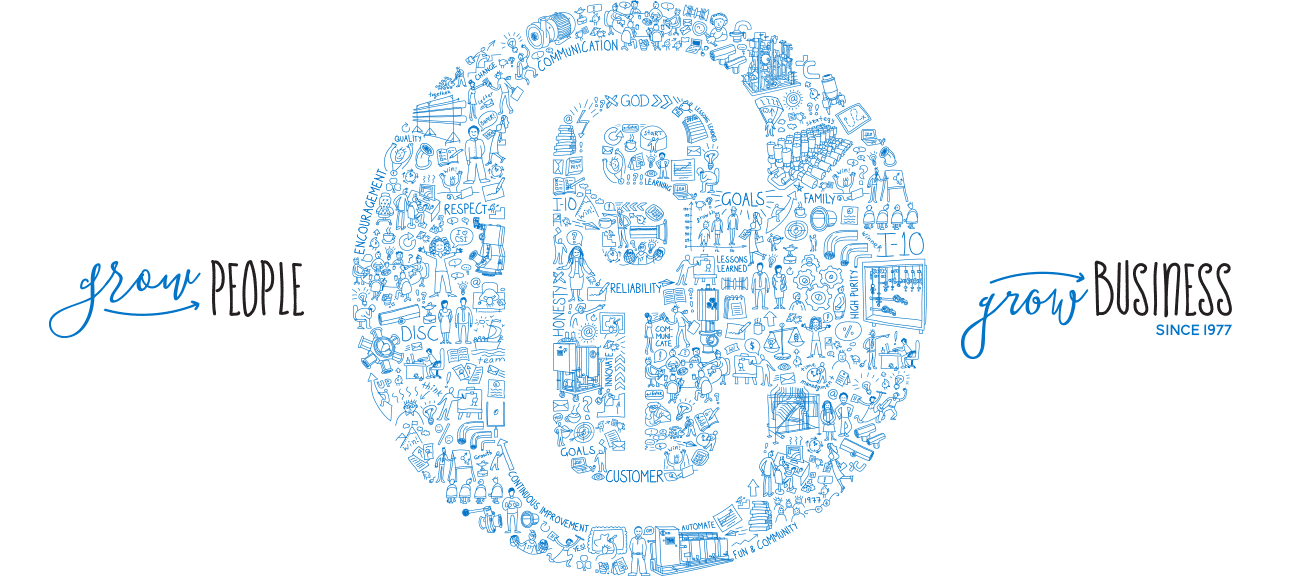 This is a philosophy Jim and Shirley believed in from the beginning in July 1977, when Central States Industrial Equipment and Service, Inc. (CSI) was located in a small garage in Jefferson City, MO.
With only four employees, the Cooks relocated CSI to Springfield, MO in 1984, and the company continued to grow. Now, CSI has five different locations across the United States, with over 160 employees.
"I talk about it sometimes—about the decision-making for my dad to start CSI—for him to walk away from a nine-year vesting in a ten-year all or nothing pension plan. I don't know how he made that leap."

Mark Cook, CEO
Business Development Leader, Eric Gore said, "It's hard to grow a business if you're not growing your people. Some of the things I do today, very easily, were once difficult for me to do. So by growing me, it helped grow business. I see this in a lot of my coworkers as well."
CSI's culture has evolved over time, but the fundamental values have remained the same since 1977. The company is built on the ideal to "take care of each other and take care of customers." There are endless examples of CSI employees supporting and helping those around them and cultivating a culture of kindness and resilience.
Creative Director, Amanda Williamson, experienced this firsthand. She said, "Several years ago I went through a very difficult time, after losing my father unexpectedly. The people of CSI embraced me and helped me through that valley. I experienced tremendous growth in the year following, thanks to the people here investing in me, coaching me, and helping me to take back control of my life and my future."
The people at CSI work together in a unified effort to serve customers and provide for their loved ones. Many coworkers have formed strong bonds of friendship throughout the years in their pursuit of a shared goal.

"I have watched my children grow, my co-workers' children grow. I like to think that I've become better. You want to contribute as a person. I don't know anyone who doesn't want to do their job well and be productive, contributing members to a successful company."

Curtis Elkins, Business Development Leader
40 years is an incredible milestone for CSI. Four decades encompasses so much life lived: countless learning experiences, victories, friendships, and memories. Kent Fuzzell, Production Specialist, said, "Knowing the stability of the company, the dependability, the feeling of being on a team and belonging ... it seems like coming home."
ABOUT CSI
Central States Industrial Equipment (CSI) is a leader in distribution of hygienic pipe, valves, fittings, pumps, heat exchangers, and MRO supplies for hygienic industrial processors, with four distribution facilities across the U.S. CSI also provides detail design and execution for hygienic process systems in the food, dairy, beverage, pharmaceutical, biotechnology, and personal care industries. Specializing in process piping, system start-ups, and cleaning systems, CSI leverages technology, intellectual property, and industry expertise to deliver solutions to processing problems. More information can be found at www.csidesigns.com.