Top 3 Reasons Plant Managers Take Advantage of Valve Maintenance Programs
Valve maintenance that you design, schedule, and document before equipment failure is considered planned maintenance (PM).
Designed for getting ahead of problems before they occur, planned maintenance is considered a proactive approach to keeping your system running rather than a reactive approach that goes into effect after problems occur.
In this post, we discuss the top 3 reasons plant managers take advantage of planned valve maintenance programs:
To preserve product integrity
To support workplace safety
To prevent unscheduled downtime
1. VALVE MAINTENANCE PRESERVES PRODUCT INTEGRITY
Preventing product contamination is a matter of keeping unwanted materials out of the product during processing. Damaged or worn valve seals flake or erode eventually, introducing seal particles into the product itself, so planned maintenance is an effective preventative.
Preserving product integrity is a matter of controlling, mixing, and transferring product accurately and consistently. As single-seat seals wear, gaps form that allow more pass-by or internal leaking to occur so that, for example, too much product may be added to a mix even though the valve is closed at the right time.
In some cases, worn seals can allow fluids to escape into the atmosphere; in others ambient bacteria may leak into the processing system.
Planned maintenance reveals damage to valve components that can cause premature seal failure. For example, corrosion of valve shafts creates imperfections in surface smoothness that can damage seals.
Reactive maintenance, on the other hand, is the practice of repairing or exchanging valves or parts only after they have broken down. Reactive maintenance commonly occurs when you have limited resources and are forced to prioritize maintenance.
Reactive maintenance might seem efficient because your staff are busy keeping other equipment running, but in the meantime, valves operate and wear and grow invisibly less efficient.
Once a problem is detected, the reactive mindset can then lead operators to pay more attention to symptoms of a problem instead of the root cause, such as devising a way to catch leaks instead of stopping the source of leaks.
While reacting and patching may be expedient, they're not cost-effective when they contribute to shutdowns. With a reactive mindset, you also don't know about contamination or product inconsistency until after it occurs.

Repairs during unplanned downtime cost more in parts, labor, length, and frequency of downtime than planned maintenance that occurs on schedule with parts, labor, and timeline in place in advance.
2. PLANNED VALVE MAINTENANCE SUPPORTS WORKPLACE SAFETY
Emotions such as hope or fear can be behind decisions to postpone maintenance, hoping components keep running, and fearing that if you replace parts too soon, you're wasting their useful lifespan. But if you focus only on equipment cost, you can overlook plant safety issues commonly related to valve operation.
In a processing system, hundreds or thousands of valves stop, divert, or control the flow of fluids under pressure. Safety concerns arise from the potential for leaks and spills that cause or contribute to worker injuries.
By taking the emotion out of valve maintenance, you stand to prevent unsafe working conditions, increase uptime, and decrease surprise disruptions.
3. REDUCE UNSCHEDULED DOWN TIME
Unscheduled downtime has a variety of causes—and many of them are preventable. For example, documenting valve performance in specific applications gives operators data to optimize maintenance schedules and maintain consistent operations. In addition, predicting seal life by application takes the guesswork out of maintenance frequency.
Similarly, counting the number of strokes between service intervals gives operators another critical data point for predicting performance. Combining stroke count with seal condition provides even greater accuracy.
Such predictive analytics provide you with trendlines for product, time, corrosion, and seal wear so you can maintain system efficiency while preventing excessive or premature maintenance.
Weighing the costs of downtime against the costs of preventive maintenance is an ongoing process of setting goals and measuring outcomes. According to Processing Magazine, "Unplanned downtime can cost a food processing facility an astounding $30,000 per hour."
Depending on production volume, the number of employees idled by unplanned downtime, and the value of the product you're producing, losses can go much higher. In fact, data published in Reliable Plant magazine paints a costly picture:
According to a study by Information Technology Intelligence Consulting (ITIC), the average cost of a single hour of downtime is $100,000. Inevitably, the true price depends on several variants, such as the time of day and the industry. Unplanned downtime is the single largest cause of lost production time for manufacturers in processing, which includes food and beverage, pharmaceutical, chemical, and oil and gas production.
In a plant, some equipment issues are relatively easy to spot as soon as they occur, such as problems with a conveyor or filler, but because valve mechanisms are enclosed, corrosion and wear are invisible until product integrity is compromised, product contamination, product consistency, or processing inefficiencies occur.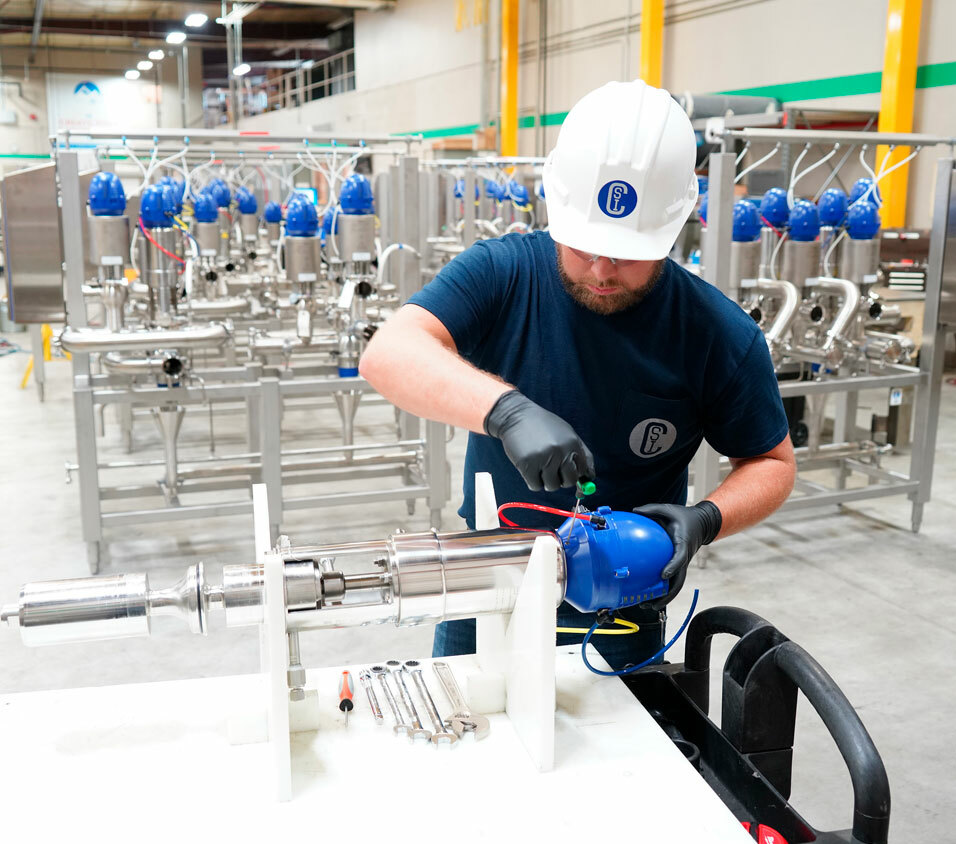 Why outsource planned maintenance for valves?
Outsourcing is a practical solution when an organization is short on resources, but even if you have a full staff, outsourcing provides technicians who have more training on the equipment.
Preventative maintenance service programs are customizable, allowing you to outsource what you need while keeping other procedures in-house.
There was a time not so long ago when car owners performed most of the maintenance on their cars themselves. Oil changes, spark plugs, and brakes were simple enough for many people to handle on their own. With more computerization, automation, and sophisticated design, many repairs are now beyond the capacity of many consumers to perform themselves.
The cost in time for diagnostics alone can be prohibitive. The evolution of processing equipment has taken a similar trajectory over the years, making outsourcing practical for several reasons:
Less time is spent on training in-house personnel on equipment-specific maintenance
In-house personnel spend more time on their areas of expertise while trained professionals handle valve maintenance
Trained valve maintenance technicians work efficiently with an understanding of how flow rates, pressure, and pipe size--among many other variables--affect valve performance
Experienced professionals can inspect and identify problems in a fraction of the time of in-house personnel
Predictability: you know when maintenance will occur and how long it will take
Predictability: achieving zero equipment-related downtime requires specific data for predictive analytics. Performance data gathered during planned maintenance helps achieve those production efficiencies
What's in a valve maintenance program?
A maintenance plan for mixproof and single-seat valves includes an audit of system capabilities and performance metrics to identify high-impact risks to production and potential causes of valve wear, waste, and inefficiency that lead to product contamination or inconsistency.
Valve maintenance plans typically include:
Valve assembly inspection and evaluation
Service kit installation
Elastomer replacement
Actuator service
Control top adjustments
Preventative maintenance provides operators with historical performance data so they can perform timely service. As a result, you can expect reduced downtime, lower maintenance costs, and increased productivity thanks to planned valve maintenance.

Mixproof Valves
Mixproof valves separate two different and incompatible liquids, preventing them from accidentally mixing. The valve features two independently controlled valve stems designed for automated operation.
Should a leak occur, the valve diverts fluids to the atmosphere rather than contaminating the other line. Cleaning fluids can flow through one line for Clean-in-place while product is flowing in an adjacent line without the risk of cross-contamination. Mixproof valves are commonly used to connect process equipment, tanks, and CIP systems to maximize plant productivity.
Single-Seat Valves
Seat valves use a stopper at the end of an actuating stem to shut off product flow through the valve's body. Seat valves are the primary hygienic valve used in processing industries.
These valves are generally well-suited for all sanitary applications. A complete system audit results in a detailed, accurate assessment of system capacities and performance metrics to identify high-impact risks to production.
Periodic Planned Maintenance Evaluation
The documentation you receive from planned maintenance helps you gauge the program's effectiveness while providing valuable performance data. In short, the information you get from well-documented preventive maintenance records tells you whether your PM efforts are truly preventing failures and improving productivity.
A PM effectiveness audit plan is another essential consideration. You can use a comprehensive review of preventive maintenance activities for procedural improvements, asset acquisition decisions, scheduling changes, inventory adjustments, and personnel assignments.
Next Steps
Routine maintenance decreases your production downtime, increases quality and output, and provides a safe and efficient workplace. Let CSI develop a plan to help your products perform at optimum levels more consistently.
A customized preventative maintenance schedule can be created to meet any budget. OEM-trained technicians perform maintenance onsite, per the manufacturer's guidelines and recommendations, while letting the customer decide which equipment is serviced.
CSI services ITT, LAUFER, SPI, and SVF valves and is a Master Service Provider for Alfa Laval sanitary valves with technicians who can conduct inspections, repairs, maintenance, site inventory audits, and testing as required on the complete line of Alfa Laval valves.
We carry genuine Alfa Laval spare parts to support customers' service requirements at their facility or three authorized CSI repair centers located in Springfield, MO, Grand Prairie, TX, and Fresno, CA.
ABOUT CSI
Central States Industrial Equipment (CSI) is a leader in distribution of hygienic pipe, valves, fittings, pumps, heat exchangers, and MRO supplies for hygienic industrial processors, with four distribution facilities across the U.S. CSI also provides detail design and execution for hygienic process systems in the food, dairy, beverage, pharmaceutical, biotechnology, and personal care industries. Specializing in process piping, system start-ups, and cleaning systems, CSI leverages technology, intellectual property, and industry expertise to deliver solutions to processing problems. More information can be found at www.csidesigns.com.