Alfa Laval Tri-Clover® 736 Swap Valve
Do you have Tri-Clover® 361 valves in your facility? If you're ready for newer technology, but not able to make the change to a new valve body, the Tri-Clover 736 "swap" valve from Alfa Laval may be the solution. The 736 valve was designed specifically to bridge the gap when an older 361 valve fails, but a complete valve upgrade isn't feasible. Since the swap valve consists of a complete 761 style valve, installation is quick and easy, with no cutting or welding required.
The 736 valve provides the same reliable, sanitary, and flexible design you expect from any of Alfa Laval's 700 series valves. A variety of options allow you to customize the valve to your system's needs. Even if you're not ready for a complete overhaul of your system, you can still look forward to many more years of reliable performance to your valves with the 736 valve.
Tri-Clover 736 valves are authorized to carry the 3-A symbol.
Alfa Laval is a leading global supplier of products and solutions within the key technology areas of heat transfer, separation, and fluid handling.
Application
The 736 valve is used to convert existing welded-in Tri-Clover 361 series shut off valves into a version of the Tri-Clover 700 series valve. This conversion provides an upgrade to all features and benefits of the Tri-Clover 700 series, without cutting or welding.
Working Principle
The valve is remote-controlled by means of compressed air. It has few and simple movable parts, contributing to a very reliable valve.
Standard Design
Like all 700 series valves, the 736 valve is designed to deliver years of reliable performance. Utilizing a specially designed bonnet, it's easy to replace existing 300 series shut-off valves:
1. Remove the body-bonnet clamp
2. Pull the 300 series components (from stem to the actuator) out of the existing 300 series valve body
2. Replace with the 736 swap valve and gasket
4. Reattach with the provided body-bonnet clamp
The 736 valve design utilizes all 761 valve spares and features including ThinkTop and GreenTop indication units, TR2, and LP elastomer stems, with high-pressure and "sealed-for-life" reversible actuators.
Actuator Function
Pneumatic downward movement, spring return (NO)
Pneumatic upward movement, spring return (NC)
Pneumatic upward and downward movement (A/A)
Actuator for intermediate position of the valve plug as option
Materials
Product Wetted Steel Parts
316L
Other Steel Parts
304
Plug Stem
Buna bonded or "TR"/"TR2" PTFE replaceable (standard)
EPDM or SFY (optional)
Product Wetted Seals
Buna (standard)
EPDM or SFY (optional)
Technical Data
| | |
| --- | --- |
| Max Product Pressure | Depends on valve specification and size (contact CSI) |
| Max Temperature | 200 – 284°F (EPDM) |
| Air Pressure | 60 – 80 psi |
Dimensional Data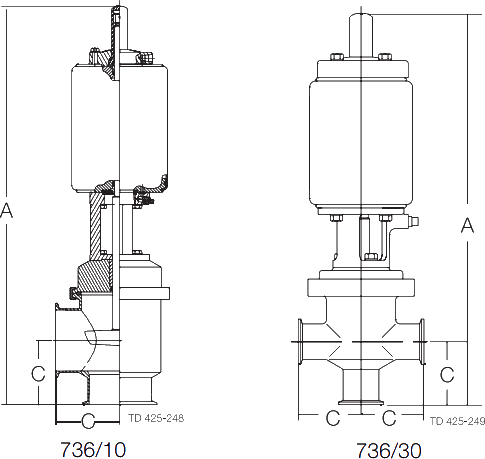 Valve Size (Tube OD)
(in)
A - Short
(in)
A - Long
(in)
C
(in)
2.0
17.32
21.25
3.50
2.5
17.56
21.53
3.50
3.0
18.06
22.03
3.75
Options

Control and indication (Control Top or ThinkTop®)
High pressure actuator for 2.5 and 3.0 inch sizes
Three position actuator
Long stroke actuator
Pressure Drop/Capacity Diagrams

Shut-off valve flow pattern: B to A (solid curve), A to B (broken curve)

Note! For the diagram the following applies:
Medium: water (68°F)
Measurements: In accordance with VDI 2173
Product Literature
See all resources by Alfa Laval
Create a MyCSI Dashboard to save resources for quick reference, track orders, and talk with experts.
Create a MyCSI Dashboard to save resources for quick reference, track orders, and talk with experts.
It only takes a minute.
Sign in
Sign in to save resource to your dashboard.
Literature for 736 Swap Valve have been saved to your dashboard!
Literature for 736 Swap Valve are already in your dashboard.