ToteStand™
The ToteStand™ from CSI takes all the mess out of using intermediate bulk containers (IBC) by providing fully automated batch or continuous ingredient delivery. Whether your application is loading or unloading ingredients—or both—we can build a system that will meet your needs.
The ToteStand increases worker safety while reducing product loss. The system's lower deck height, better drainability, and automatic level monitoring mean you won't lose valuable product; and, the stable support makes tote loading and removal much easier.
The hygienic design of the ToteStand makes cleaning the stainless steel construction easy and efficient, and the system can be installed easily in a manner that is completely CIP'able. ToteStand works with a variety of bulk containers and drums, and various pump configurations are available to meet your specific needs.
Central States Industrial (CSI) offers a full range of hygienic processing equipment and services for the food, dairy, beverage, pharmaceutical, and personal care industries. CSI maintains an extensive inventory of fittings, tubing, pumps, valves, and instrumentation.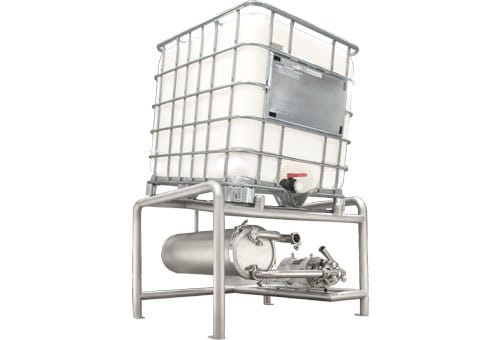 Applications
The ToteStand is perfect for applications that require minor ingredients, colorants, and flavorings. It is also used for processes that call for coatings, pre-mix, sweeteners, and fats and oils. Its efficient design with backup reservoir also suits many chemical applications.
Working Principle
The system allows your tote to feed into a reservoir; and from there, a pump can draw in the product and distribute it to one or more use-points in the process. When the tote is empty, the inline level switch sends a signal to a PLC (programmable logic controller) or local indicator. The operator can then replace the empty tote with a new one, while the system continues to operate with the product in the reservoir.
The system can be manual, semi-automated, or fully automated, and a ToteTilter™ can also be integrated into your ToteStand.
Features
Low profile, hygienic design
Angled tote position for near complete drainage
2-inch food grade hose with Tri-Clamp® end connections
Sanitary inline level switch
Stainless steel reservoir tank with vacuum breaker/air bleed
Options
Loading, unloading, or both
40-gallon reservoir tank for larger batch sizes
Valves for multiple use points
CIP'able
Technical Data
| | |
| --- | --- |
| Materials | 304 stainless steel |
| Finish | Bead blast |
| Reservoir Tank Size | 40 gallons |
Product Literature
See all resources by CSI
Create a MyCSI Dashboard to save resources for quick reference, track orders, and talk with experts.
Create a MyCSI Dashboard to save resources for quick reference, track orders, and talk with experts.
It only takes a minute.
Sign in
Sign in to save resource to your dashboard.
Literature for ToteStand™ have been saved to your dashboard!
Literature for ToteStand™ are already in your dashboard.